I attended the University of Oregon (before giving my life to Jesus). In the middle of campus sits the Erb Memorial Union, a student meeting, eating and studying building. Just off the NW corner of the building was a grassy knoll. This knoll was a place for students to share their thoughts on any topic that they cared to share. I don't recall any of the specific messages that were shared from the knoll. I honestly didn't find that many of them worth my time to listen too.
I do recall though that there were some Christians who would occasionally gather on the knoll and preach about the Lord's second coming. Regardless of who or what was shared from the knoll, there would be those listening who were supporting the message and those who clearly were not.
I had forgotten all about the knoll until reading Matthew 3 for this message. While the people on the knoll didn't wear camel hair robes and a leather belt and sandals, they like John were spreading the good news and had both those in attendance who wanted to hear the message as well as those who were not willing to receive the message. Like many of us, those who were not open to receiving the life-changing message only wanted the message if it fit to their world view. Those individuals and maybe all too often you and I are being as receptive as the Pharisees and Sadducees in Matthew 3.
I wonder how Matthew 3 would read today if a John the Baptist were to come to our community. Who would be the ones John called the Pharisees and Sadducees and what would be the defining characteristics of those people.
Lord, help me to listen to all those who call out in your name. May I see your vision of the world and Heaven and step out of my perception and into your reality, allowing you to be the Lord of my life.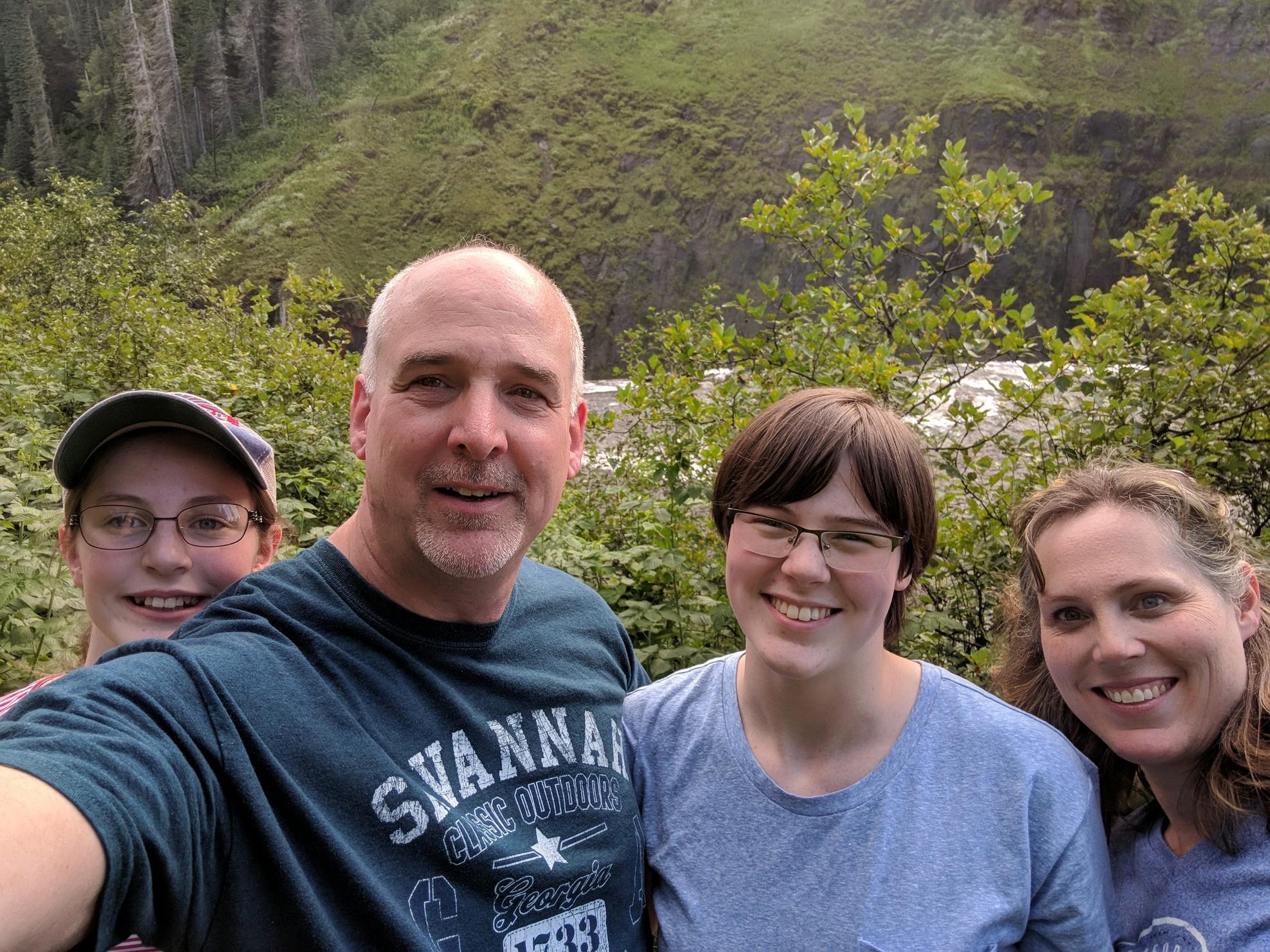 was born in Springfield, Oregon, and reborn in Boston, Massachusetts. He is blessed to be the father of two wonderful daughters and the husband of a truly remarkable wife. He so enjoys the wonders God has made that we get to especially enjoy here in the NW with our mountains, waterways and the Pacific Ocean. He hopes to see you hiking our trails or strolling our beaches and prays he sees you in heaven.
Matthew 3
John the Baptist Prepares the Way
1 In those days John the Baptist came preaching in the wilderness of Judea, 2 and saying, "Repent, for the kingdom of heaven is at hand!" 3 For this is he who was spoken of by the prophet Isaiah, saying:
"The voice of one crying in the wilderness:
'Prepare the way of the Lord;
Make His paths straight.' "
4 Now John himself was clothed in camel's hair, with a leather belt around his waist; and his food was locusts and wild honey. 5 Then Jerusalem, all Judea, and all the region around the Jordan went out to him 6 and were baptized by him in the Jordan, confessing their sins.
7 But when he saw many of the Pharisees and Sadducees coming to his baptism, he said to them, "Brood of vipers! Who warned you to flee from the wrath to come? 8 Therefore bear fruits worthy of repentance, 9 and do not think to say to yourselves, 'We have Abraham as our father.' For I say to you that God is able to raise up children to Abraham from these stones. 10 And even now the ax is laid to the root of the trees. Therefore every tree which does not bear good fruit is cut down and thrown into the fire. 11 I indeed baptize you with water unto repentance, but He who is coming after me is mightier than I, whose sandals I am not worthy to carry. He will baptize you with the Holy Spirit and fire. 12 His winnowing fan is in His hand, and He will thoroughly clean out His threshing floor, and gather His wheat into the barn; but He will burn up the chaff with unquenchable fire."
John Baptizes Jesus
13 Then Jesus came from Galilee to John at the Jordan to be baptized by him. 14 And John tried to prevent Him, saying, "I need to be baptized by You, and are You coming to me?"
15 But Jesus answered and said to him, "Permit it to be so now, for thus it is fitting for us to fulfill all righteousness." Then he allowed Him.
16 When He had been baptized, Jesus came up immediately from the water; and behold, the heavens were opened to Him, and He saw the Spirit of God descending like a dove and alighting upon Him. 17 And suddenly a voice came from heaven, saying, "This is My beloved Son, in whom I am well pleased."
Matthew 4
Satan Tempts Jesus
1 Then Jesus was led up by the Spirit into the wilderness to be tempted by the devil. 2 And when He had fasted forty days and forty nights, afterward He was hungry. 3 Now when the tempter came to Him, he said, "If You are the Son of God, command that these stones become bread."
4 But He answered and said, "It is written, 'Man shall not live by bread alone, but by every word that proceeds from the mouth of God.' "
5 Then the devil took Him up into the holy city, set Him on the pinnacle of the temple, 6 and said to Him, "If You are the Son of God, throw Yourself down. For it is written:
'He shall give His angels charge over you,'
and,
'In their hands they shall bear you up,
Lest you dash your foot against a stone.' "
7 Jesus said to him, "It is written again, 'You shall not tempt the Lord your God.' "
8 Again, the devil took Him up on an exceedingly high mountain, and showed Him all the kingdoms of the world and their glory. 9 And he said to Him, "All these things I will give You if You will fall down and worship me."
10 Then Jesus said to him, "Away with you, Satan! For it is written, 'You shall worship the Lord your God, and Him only you shall serve.' "
11 Then the devil left Him, and behold, angels came and ministered to Him.
Jesus Begins His Galilean Ministry
12 Now when Jesus heard that John had been put in prison, He departed to Galilee. 13 And leaving Nazareth, He came and dwelt in Capernaum, which is by the sea, in the regions of Zebulun and Naphtali, 14 that it might be fulfilled which was spoken by Isaiah the prophet, saying:
15 "The land of Zebulun and the land of Naphtali,
By the way of the sea, beyond the Jordan,
Galilee of the Gentiles:
16 The people who sat in darkness have seen a great light,
And upon those who sat in the region and shadow of death
Light has dawned."
17 From that time Jesus began to preach and to say, "Repent, for the kingdom of heaven is at hand."
Four Fishermen Called as Disciples
18 And Jesus, walking by the Sea of Galilee, saw two brothers, Simon called Peter, and Andrew his brother, casting a net into the sea; for they were fishermen. 19 Then He said to them, "Follow Me, and I will make you fishers of men." 20 They immediately left their nets and followed Him.
21 Going on from there, He saw two other brothers, James the son of Zebedee, and John his brother, in the boat with Zebedee their father, mending their nets. He called them, 22 and immediately they left the boat and their father, and followed Him.
Jesus Heals a Great Multitude
23 And Jesus went about all Galilee, teaching in their synagogues, preaching the gospel of the kingdom, and healing all kinds of sickness and all kinds of disease among the people. 24 Then His fame went throughout all Syria; and they brought to Him all sick people who were afflicted with various diseases and torments, and those who were demon-possessed, epileptics, and paralytics; and He healed them. 25 Great multitudes followed Him—from Galilee, and from Decapolis, Jerusalem, Judea, and beyond the Jordan.
Psalm 82
A Plea for Justice
A Psalm of Asaph.
1 God stands in the congregation of the mighty;
He judges among the gods.
2 How long will you judge unjustly,
And show partiality to the wicked? Selah
3 Defend the poor and fatherless;
Do justice to the afflicted and needy.
4 Deliver the poor and needy;
Free them from the hand of the wicked.
5 They do not know, nor do they understand;
They walk about in darkness;
All the foundations of the earth are unstable.
6 I said, "You are gods,
And all of you are children of the Most High.
7 But you shall die like men,
And fall like one of the princes."
8 Arise, O God, judge the earth;
For You shall inherit all nations.