Hosea was a minor prophet in Israel from around 753 to 729 BC. He lived in the darkest period of the history of the kingdom of Israel, just before the nation was taken captive by Assyria. Outwardly, Israel under Jeroboam II was prosperous and successful. However, political anarchy and misrule, inner moral and spiritual decline of the people were the order of the day. Hosea was called by God to appeal to these people to repent. The appeals were unheeded by an apostate people.
Israel sank deep into iniquity. Over and over God sent prophets with messages of impending doom if they did not repent. When Israel obeyed God and worshiped Him only, prosperity and peace were the order of the day. Satan worked tirelessly to derail the Israelites, and to a great degree he succeeded. The Assyrians finally came and took them captive. The judgement that befell them was the result of their own continued disobedience.
"The transgressors were given many opportunities to repent. In their hour of deepest apostasy and greatest need, God's message to them was one of forgiveness and hope." PK 158
God commanded Hosea to take an adulterous wife, Gomer. What! Why? Whether you take this as a parable or allegory or as a literal, biographical sketch of Hosea's personal family life, the message is the same: forgiveness and love. Three children were born to them, whether or not Hosea was the father of all three is questionable. Gomer ran away and worked as a prostitute. Hosea went and bought her back and took her home as his wife, offering forgiveness and love.
What a parallel! The Israelites and God, Hosea and Gomer! What does this tell us today? We are so like the Israelites and Gomer! The dominant theme of the book of Hosea is the love of God for His erring children. This was illustrated in real time by Hosea and his relationship with Gomer. God gives to us many opportunities on a daily basis to repent and obey and readily offers us forgiveness for genuine repentance. He is no less loving today than He was with the children of Israel! Love to God yields obedience. May we heed His invitation to live life dedicated completely to Him!
Psalm 122 is an expression of joy for the privilege of going up to Jerusalem to worship. There is joy in worshiping in the society of kindred spirits! May we find that joy of fellowship and communion right here at Hood View SDA Church, not only on Sabbath but every time we have the privilege of gathering together with our community!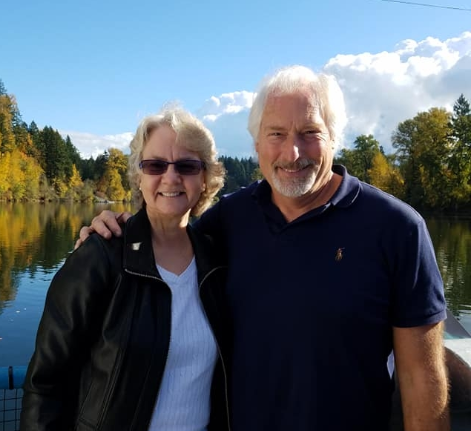 is first and foremost a child of God! She takes great delight in being married to her best friend, Michael. They have five awesome kids and three wonderful grandchildren! They take great delight in watching sweet baby Rayanne grow on a daily basis! She loves her job as a nurse working in maternal fetal medicine! She and Michael enjoy working around their house and love to ride their Harley's and travel and find that life is a great adventure. Their daily prayer is that their family circle will be unbroken in heaven!
Hosea 1
Hosea's Unfaithful Wife
1 The word of the Lord that came to Hosea the son of Beeri, in the days of Uzziah, Jotham, Ahaz, and Hezekiah, kings of Judah, and in the days of Jeroboam the son of Joash, king of Israel.
The Family of Hosea
2 When the Lord began to speak by Hosea, the Lord said to Hosea:
"Go, take yourself a wife of harlotry
And children of harlotry,
For the land has committed great harlotry
By departing from the Lord."
3 So he went and took Gomer the daughter of Diblaim, and she conceived and bore him a son. 4 Then the Lord said to him:
"Call his name Jezreel,
For in a little while
I will avenge the bloodshed of Jezreel on the house of Jehu,
And bring an end to the kingdom of the house of Israel.
5 It shall come to pass in that day
That I will break the bow of Israel in the Valley of Jezreel."
6 And she conceived again and bore a daughter. Then God said to him:
"Call her name Lo-Ruhamah,
For I will no longer have mercy on the house of Israel,
But I will utterly take them away.
7 Yet I will have mercy on the house of Judah,
Will save them by the Lord their God,
And will not save them by bow,
Nor by sword or battle,
By horses or horsemen."
8 Now when she had weaned Lo-Ruhamah, she conceived and bore a son. 9 Then God said:
"Call his name Lo-Ammi,
For you are not My people,
And I will not be your God.
The Restoration of Israel
10 "Yet the number of the children of Israel
Shall be as the sand of the sea,
Which cannot be measured or numbered.
And it shall come to pass
In the place where it was said to them,
'You are not My people,'
There it shall be said to them,
'You are sons of the living God.'
11 Then the children of Judah and the children of Israel
Shall be gathered together,
And appoint for themselves one head;
And they shall come up out of the land,
For great will be the day of Jezreel!
Hosea 2
The Lord's Love for His Unfaithful People
1 Say to your brethren, 'My people,'
And to your sisters, 'Mercy is shown.'
God's Unfaithful People
2 "Bring charges against your mother, bring charges;
For she is not My wife, nor am I her Husband!
Let her put away her harlotries from her sight,
And her adulteries from between her breasts;
3 Lest I strip her naked
And expose her, as in the day she was born,
And make her like a wilderness,
And set her like a dry land,
And slay her with thirst.
4 "I will not have mercy on her children,
For they are the children of harlotry.
5 For their mother has played the harlot;
She who conceived them has behaved shamefully.
For she said, 'I will go after my lovers,
Who give me my bread and my water,
My wool and my linen,
My oil and my drink.'
6 "Therefore, behold,
I will hedge up your way with thorns,
And wall her in,
So that she cannot find her paths.
7 She will chase her lovers,
But not overtake them;
Yes, she will seek them, but not find them.
Then she will say,
'I will go and return to my first husband,
For then it was better for me than now.'
8 For she did not know
That I gave her grain, new wine, and oil,
And multiplied her silver and gold—
Which they prepared for Baal.
9 "Therefore I will return and take away
My grain in its time
And My new wine in its season,
And will take back My wool and My linen,
Given to cover her nakedness.
10 Now I will uncover her lewdness in the sight of her lovers,
And no one shall deliver her from My hand.
11 I will also cause all her mirth to cease,
Her feast days,
Her New Moons,
Her Sabbaths—
All her appointed feasts.
12 "And I will destroy her vines and her fig trees,
Of which she has said,
'These are my wages that my lovers have given me.'
So I will make them a forest,
And the beasts of the field shall eat them.
13 I will punish her
For the days of the Baals to which she burned incense.
She decked herself with her earrings and jewelry,
And went after her lovers;
But Me she forgot," says the Lord.
God's Mercy on His People
14 "Therefore, behold, I will allure her,
Will bring her into the wilderness,
And speak comfort to her.
15 I will give her her vineyards from there,
And the Valley of Achor as a door of hope;
She shall sing there,
As in the days of her youth,
As in the day when she came up from the land of Egypt.
16 "And it shall be, in that day,"
Says the Lord,
"That you will call Me 'My Husband,'
And no longer call Me 'My Master,'
17 For I will take from her mouth the names of the Baals,
And they shall be remembered by their name no more.
18 In that day I will make a covenant for them
With the beasts of the field,
With the birds of the air,
And with the creeping things of the ground.
Bow and sword of battle I will shatter from the earth,
To make them lie down safely.
19 "I will betroth you to Me forever;
Yes, I will betroth you to Me
In righteousness and justice,
In lovingkindness and mercy;
20 I will betroth you to Me in faithfulness,
And you shall know the Lord.
21 "It shall come to pass in that day
That I will answer," says the Lord;
"I will answer the heavens,
And they shall answer the earth.
22 The earth shall answer
With grain,
With new wine,
And with oil;
They shall answer Jezreel.
23 Then I will sow her for Myself in the earth,
And I will have mercy on her who had not obtained mercy;
Then I will say to those who were not My people,
'You are My people!'
And they shall say, 'You are my God!' "
Hosea 3
Israel Will Return to God
1 Then the Lord said to me, "Go again, love a woman who is loved by a lover and is committing adultery, just like the love of the Lord for the children of Israel, who look to other gods and love the raisin cakes of the pagans."
2 So I bought her for myself for fifteen shekels of silver, and one and one-half homers of barley. 3 And I said to her, "You shall stay with me many days; you shall not play the harlot, nor shall you have a man—so, too, willI be toward you."
4 For the children of Israel shall abide many days without king or prince, without sacrifice or sacred pillar, without ephod or teraphim. 5 Afterward the children of Israel shall return and seek the Lord their God and David their king. They shall fear the Lord and His goodness in the latter days.
Hosea 4
God's Charge Against Israel
1 Hear the word of the Lord,
You children of Israel,
For the Lord brings a charge against the inhabitants of the land:
"There is no truth or mercy
Or knowledge of God in the land.
2 By swearing and lying,
Killing and stealing and committing adultery,
They break all restraint,
With bloodshed upon bloodshed.
3 Therefore the land will mourn;
And everyone who dwells there will waste away
With the beasts of the field
And the birds of the air;
Even the fish of the sea will be taken away.
4 "Now let no man contend, or rebuke another;
For your people are like those who contend with the priest.
5 Therefore you shall stumble in the day;
The prophet also shall stumble with you in the night;
And I will destroy your mother.
6 My people are destroyed for lack of knowledge.
Because you have rejected knowledge,
I also will reject you from being priest for Me;
Because you have forgotten the law of your God,
I also will forget your children.
7 "The more they increased,
The more they sinned against Me;
I will change their glory into shame.
8 They eat up the sin of My people;
They set their heart on their iniquity.
9 And it shall be: like people, like priest.
So I will punish them for their ways,
And reward them for their deeds.
10 For they shall eat, but not have enough;
They shall commit harlotry, but not increase;
Because they have ceased obeying the Lord.
The Idolatry of Israel
11 "Harlotry, wine, and new wine enslave the heart.
12 My people ask counsel from their wooden idols,
And their staff informs them.
For the spirit of harlotry has caused them to stray,
And they have played the harlot against their God.
13 They offer sacrifices on the mountaintops,
And burn incense on the hills,
Under oaks, poplars, and terebinths,
Because their shade is good.
Therefore your daughters commit harlotry,
And your brides commit adultery.
14 "I will not punish your daughters when they commit harlotry,
Nor your brides when they commit adultery;
For the men themselves go apart with harlots,
And offer sacrifices with a ritual harlot.
Therefore people who do not understand will be trampled.
15 "Though you, Israel, play the harlot,
Let not Judah offend.
Do not come up to Gilgal,
Nor go up to Beth Aven,
Nor swear an oath, saying, 'As the Lord lives'—
16 "For Israel is stubborn
Like a stubborn calf;
Now the Lord will let them forage
Like a lamb in open country.
17 "Ephraim is joined to idols,
Let him alone.
18 Their drink is rebellion,
They commit harlotry continually.
Her rulers dearly love dishonor.
19 The wind has wrapped her up in its wings,
And they shall be ashamed because of their sacrifices.
Hosea 5
Impending Judgment on Israel and Judah
1 "Hear this, O priests!
Take heed, O house of Israel!
Give ear, O house of the king!
For yours is the judgment,
Because you have been a snare to Mizpah
And a net spread on Tabor.
2 The revolters are deeply involved in slaughter,
Though I rebuke them all.
3 I know Ephraim,
And Israel is not hidden from Me;
For now, O Ephraim, you commit harlotry;
Israel is defiled.
4 "They do not direct their deeds
Toward turning to their God,
For the spirit of harlotry is in their midst,
And they do not know the Lord.
5 The pride of Israel testifies to his face;
Therefore Israel and Ephraim stumble in their iniquity;
Judah also stumbles with them.
6 "With their flocks and herds
They shall go to seek the Lord,
But they will not find Him;
He has withdrawn Himself from them.
7 They have dealt treacherously with the Lord,
For they have begotten pagan children.
Now a New Moon shall devour them and their heritage.
8 "Blow the ram's horn in Gibeah,
The trumpet in Ramah!
Cry aloud at Beth Aven,
'Look behind you, O Benjamin!'
9 Ephraim shall be desolate in the day of rebuke;
Among the tribes of Israel I make known what is sure.
10 "The princes of Judah are like those who remove a landmark;
I will pour out My wrath on them like water.
11 Ephraim is oppressed and broken in judgment,
Because he willingly walked by human precept.
12 Therefore I will be to Ephraim like a moth,
And to the house of Judah like rottenness.
13 "When Ephraim saw his sickness,
And Judah saw his wound,
Then Ephraim went to Assyria
And sent to King Jareb;
Yet he cannot cure you,
Nor heal you of your wound.
14 For I will be like a lion to Ephraim,
And like a young lion to the house of Judah.
I, even I, will tear them and go away;
I will take them away, and no one shall rescue.
15 I will return again to My place
Till they acknowledge their offense.
Then they will seek My face;
In their affliction they will earnestly seek Me."
Psalm 122
The Joy of Going to the House of the Lord
A Song of Ascents. Of David.
1 I was glad when they said to me,
"Let us go into the house of the Lord."
2 Our feet have been standing
Within your gates, O Jerusalem!
3 Jerusalem is built
As a city that is compact together,
4 Where the tribes go up,
The tribes of the Lord,
To the Testimony of Israel,
To give thanks to the name of the Lord.
5 For thrones are set there for judgment,
The thrones of the house of David.
6 Pray for the peace of Jerusalem:
"May they prosper who love you.
7 Peace be within your walls,
Prosperity within your palaces."
8 For the sake of my brethren and companions,
I will now say, "Peace be within you."
9 Because of the house of the Lord our God
I will seek your good.