Comfort Ye…Isaiah 40:1, Psalm 119:105, Galatians 5:22
During this time of daylight savings, I personally am drawn to texts, messages, books, and words of greetings of comfort and light. The first inclination is to talk about the gloom that has now descended because the majority of hours in darkness covering our corner of the tilted globe. Yet the sun is shining somewhere even if we only have a dim reflection of the moon overhead for the night. The greatest Light our Lord Jesus is the light of our world, my feet and life. The prophet Isaiah announces Christ our light, has come, and encourages us to be light to others. If we are bombarding our thinking with Biblical statements and lyrics of the Light and saving grace, we will naturally shine this illuminating ray of healing and growth to others. We can make time to renew our minds with love, joy, peace, patience, kindness, goodness faithfulness, gentleness, and self-control tenderness, joy, kindness, temperance. Gal. 5:22. Children's songs "Brighten the corner where you are" and "This little light of mine" have power to overcome gloom. Unless I choose to brighten my own thinking, only dimness remains to spread to others as well. Today I can choose powerful positive thoughts. Comfort myself in the Lord so I can comfort, shine my light and act with the gifts of the Spirit for positive community living.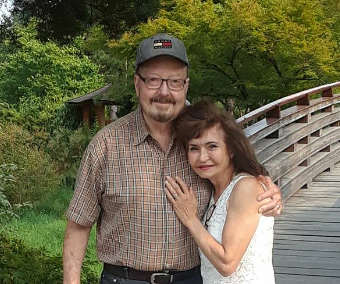 was born in Cortland, New York. She attended the same parochial Adventist school she would later be principal and teacher. Academy included Union Springs and Shenandoah Valley. Although she attended Pacific Union and Andrews, she received a BA in Art and Elementary cum laude from SUNY Cortland, MA in Education Administration from AUC. Teaching included adjunct at the local Jr. college. She cherishes two adult children, Sarita and Dale Pickett and one grandson, Alexander the Great! Her artwork has won international acclaim. In addition, she derives great joy in volunteer positions in area hospitals. Her other passion is music and is involved in Gresham United Methodist Choir, Festival Chorale Oregon, Salem and seasonal Hood View Choirs. Marriage to her best friend, Rogers Murray, has brought her to Boring to flourish.
Isaiah 52
God Redeems Jerusalem
1 Awake, awake!
Put on your strength, O Zion;
Put on your beautiful garments,
O Jerusalem, the holy city!
For the uncircumcised and the unclean
Shall no longer come to you.
2 Shake yourself from the dust, arise;
Sit down, O Jerusalem!
Loose yourself from the bonds of your neck,
O captive daughter of Zion!
3 For thus says the Lord:
"You have sold yourselves for nothing,
And you shall be redeemed without money."
4 For thus says the Lord God:
"My people went down at first
Into Egypt to dwell there;
Then the Assyrian oppressed them without cause.
5 Now therefore, what have I here," says the Lord,
"That My people are taken away for nothing?
Those who rule over them
Make them wail," says the Lord,
"And My name is blasphemed continually every day.
6 Therefore My people shall know My name;
Therefore they shall know in that day
That I am He who speaks:
'Behold, it is I.' "
7 How beautiful upon the mountains
Are the feet of him who brings good news,
Who proclaims peace,
Who brings glad tidings of good things,
Who proclaims salvation,
Who says to Zion,
"Your God reigns!"
8 Your watchmen shall lift up their voices,
With their voices they shall sing together;
For they shall see eye to eye
When the Lord brings back Zion.
9 Break forth into joy, sing together,
You waste places of Jerusalem!
For the Lord has comforted His people,
He has redeemed Jerusalem.
10 The Lord has made bare His holy arm
In the eyes of all the nations;
And all the ends of the earth shall see
The salvation of our God.
11 Depart! Depart! Go out from there,
Touch no unclean thing;
Go out from the midst of her,
Be clean,
You who bear the vessels of the Lord.
12 For you shall not go out with haste,
Nor go by flight;
For the Lord will go before you,
And the God of Israel will be your rear guard.
The Sin-Bearing Servant
13 Behold, My Servant shall deal prudently;
He shall be exalted and extolled and be very high.
14 Just as many were astonished at you,
So His visage was marred more than any man,
And His form more than the sons of men;
15 So shall He sprinkle many nations.
Kings shall shut their mouths at Him;
For what had not been told them they shall see,
And what they had not heard they shall consider.
Isaiah 53
The Sin-Bearing Messiah
1 Who has believed our report?
And to whom has the arm of the Lord been revealed?
2 For He shall grow up before Him as a tender plant,
And as a root out of dry ground.
He has no form or comeliness;
And when we see Him,
There is no beauty that we should desire Him.
3 He is despised and rejected by men,
A Man of sorrows and acquainted with grief.
And we hid, as it were, our faces from Him;
He was despised, and we did not esteem Him.
4 Surely He has borne our griefs
And carried our sorrows;
Yet we esteemed Him stricken,
Smitten by God, and afflicted.
5 But He was wounded for our transgressions,
He was bruised for our iniquities;
The chastisement for our peace was upon Him,
And by His stripes we are healed.
6 All we like sheep have gone astray;
We have turned, every one, to his own way;
And the Lord has laid on Him the iniquity of us all.
7 He was oppressed and He was afflicted,
Yet He opened not His mouth;
He was led as a lamb to the slaughter,
And as a sheep before its shearers is silent,
So He opened not His mouth.
8 He was taken from prison and from judgment,
And who will declare His generation?
For He was cut off from the land of the living;
For the transgressions of My people He was stricken.
9 And they made His grave with the wicked—
But with the rich at His death,
Because He had done no violence,
Nor was any deceit in His mouth.
10 Yet it pleased the Lord to bruise Him;
He has put Him to grief.
When You make His soul an offering for sin,
He shall see His seed, He shall prolong His days,
And the pleasure of the Lord shall prosper in His hand.
11 He shall see the labor of His soul, and be satisfied.
By His knowledge My righteous Servant shall justify many,
For He shall bear their iniquities.
12 Therefore I will divide Him a portion with the great,
And He shall divide the spoil with the strong,
Because He poured out His soul unto death,
And He was numbered with the transgressors,
And He bore the sin of many,
And made intercession for the transgressors.
Isaiah 54
A Perpetual Covenant of Peace
1 "Sing, O barren,
You who have not borne!
Break forth into singing, and cry aloud,
You who have not labored with child!
For more are the children of the desolate
Than the children of the married woman," says the Lord.
2 "Enlarge the place of your tent,
And let them stretch out the curtains of your dwellings;
Do not spare;
Lengthen your cords,
And strengthen your stakes.
3 For you shall expand to the right and to the left,
And your descendants will inherit the nations,
And make the desolate cities inhabited.
4 "Do not fear, for you will not be ashamed;
Neither be disgraced, for you will not be put to shame;
For you will forget the shame of your youth,
And will not remember the reproach of your widowhood anymore.
5 For your Maker is your husband,
The Lord of hosts is His name;
And your Redeemer is the Holy One of Israel;
He is called the God of the whole earth.
6 For the Lord has called you
Like a woman forsaken and grieved in spirit,
Like a youthful wife when you were refused,"
Says your God.
7 "For a mere moment I have forsaken you,
But with great mercies I will gather you.
8 With a little wrath I hid My face from you for a moment;
But with everlasting kindness I will have mercy on you,"
Says the Lord, your Redeemer.
9 "For this is like the waters of Noah to Me;
For as I have sworn
That the waters of Noah would no longer cover the earth,
So have I sworn
That I would not be angry with you, nor rebuke you.
10 For the mountains shall depart
And the hills be removed,
But My kindness shall not depart from you,
Nor shall My covenant of peace be removed,"
Says the Lord, who has mercy on you.
11 "O you afflicted one,
Tossed with tempest, and not comforted,
Behold, I will lay your stones with colorful gems,
And lay your foundations with sapphires.
12 I will make your pinnacles of rubies,
Your gates of crystal,
And all your walls of precious stones.
13 All your children shall be taught by the Lord,
And great shall be the peace of your children.
14 In righteousness you shall be established;
You shall be far from oppression, for you shall not fear;
And from terror, for it shall not come near you.
15 Indeed they shall surely assemble, but not because of Me.
Whoever assembles against you shall fall for your sake.
16 "Behold, I have created the blacksmith
Who blows the coals in the fire,
Who brings forth an instrument for his work;
And I have created the spoiler to destroy.
17 No weapon formed against you shall prosper,
And every tongue which rises against you in judgment
You shall condemn.
This is the heritage of the servants of the Lord,
And their righteousness is from Me,"
Says the Lord.
Psalm 119:97-128
מ MEM
97 Oh, how I love Your law!
It is my meditation all the day.
98 You, through Your commandments, make me wiser than my enemies;
For they are ever with me.
99 I have more understanding than all my teachers,
For Your testimonies are my meditation.
100 I understand more than the ancients,
Because I keep Your precepts.
101 I have restrained my feet from every evil way,
That I may keep Your word.
102 I have not departed from Your judgments,
For You Yourself have taught me.
103 How sweet are Your words to my taste,
Sweeter than honey to my mouth!
104 Through Your precepts I get understanding;
Therefore I hate every false way.
נ NUN
105 Your word is a lamp to my feet
And a light to my path.
106 I have sworn and confirmed
That I will keep Your righteous judgments.
107 I am afflicted very much;
Revive me, O Lord, according to Your word.
108 Accept, I pray, the freewill offerings of my mouth, O Lord,
And teach me Your judgments.
109 My life is continually in my hand,
Yet I do not forget Your law.
110 The wicked have laid a snare for me,
Yet I have not strayed from Your precepts.
111 Your testimonies I have taken as a heritage forever,
For they are the rejoicing of my heart.
112 I have inclined my heart to perform Your statutes
Forever, to the very end.
ס SAMEK
113 I hate the double-minded,
But I love Your law.
114 You are my hiding place and my shield;
I hope in Your word.
115 Depart from me, you evildoers,
For I will keep the commandments of my God!
116 Uphold me according to Your word, that I may live;
And do not let me be ashamed of my hope.
117 Hold me up, and I shall be safe,
And I shall observe Your statutes continually.
118 You reject all those who stray from Your statutes,
For their deceit is falsehood.
119 You put away all the wicked of the earth like dross;
Therefore I love Your testimonies.
120 My flesh trembles for fear of You,
And I am afraid of Your judgments.
ע AYIN
121 I have done justice and righteousness;
Do not leave me to my oppressors.
122 Be surety for Your servant for good;
Do not let the proud oppress me.
123 My eyes fail from seeking Your salvation
And Your righteous word.
124 Deal with Your servant according to Your mercy,
And teach me Your statutes.
125 I am Your servant;
Give me understanding,
That I may know Your testimonies.
126 It is time for You to act, O Lord,
For they have regarded Your law as void.
127 Therefore I love Your commandments
More than gold, yes, than fine gold!
128 Therefore all Your precepts concerning all things
I consider to be right;
I hate every false way.