What path are you on today? Each morning when you awake you start on a new journey. You are uncertain of what lies ahead, but it is a journey we all must take. Some paths are smooth and strait and then we come across a sign that says road under construction, detour ahead.
There are so many times in our lives when everything is going so right. We are healthy, we enjoy our jobs and we have a great relationship with our family and friends. When suddenly we come to a bump in the road, road under construction and end up taking an unexpected detour. You might have lost your job, your marriage may be suffering, you are struggling financially or maybe a severe health issue has stopped you in your tracks. While we may have forgotten God when our life is going well, God has not forgotten us. God is with us in the good times and bad times, but it's often the bad times when we reach out for God and ask where he has been and how He let this happen to us. Let us learn to trust God and ask him to direct our paths no matter where the road takes us.
As we read through the Psalms we see David facing the same, and probably worse, challenges than us. Sometimes he also forgot God and realized how much he needed him and prayed to get himself back on the right path. In Psalm 86:5 David says, "You, Lord, are forgiving and good, abounding in love to all who call to you." Let us remember to call on the Lord knowing He is so loving and forgiving. In verse 11 David says, "Teach me your way, LORD, that I may rely on your faithfulness." Let us each day ask God to teach us the way we should be going and when we do hit a detour we can rely on his faithfulness to direct and provide for us.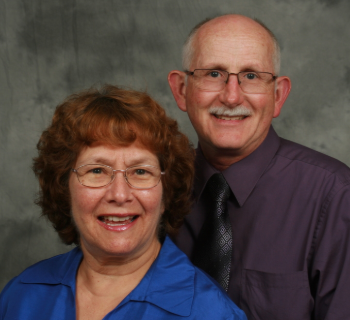 is married to Elizabeth his loving wife of 47 years. They both are retired and are enjoying traveling to see their son Brian, his wife Izumi, and grand kids in DC. They like traveling in general: Hawaii, Mexico, cruising etc., as well as camping and hiking several times each summer. Carl also enjoys golfing and photography.
1 Samuel 28
Saul Consults a Medium
1 Now it happened in those days that the Philistines gathered their armies together for war, to fight with Israel. And Achish said to David, "You assuredly know that you will go out with me to battle, you and your men."
2 So David said to Achish, "Surely you know what your servant can do."
And Achish said to David, "Therefore I will make you one of my chief guardians forever."
Saul Consults a Medium
3 Now Samuel had died, and all Israel had lamented for him and buried him in Ramah, in his own city. And Saul had put the mediums and the spiritists out of the land.
4 Then the Philistines gathered together, and came and encamped at Shunem. So Saul gathered all Israel together, and they encamped at Gilboa. 5 When Saul saw the army of the Philistines, he was afraid, and his heart trembled greatly. 6 And when Saul inquired of the Lord, the Lord did not answer him, either by dreams or by Urim or by the prophets.
7 Then Saul said to his servants, "Find me a woman who is a medium, that I may go to her and inquire of her."
And his servants said to him, "In fact, there is a woman who is a medium at En Dor."
8 So Saul disguised himself and put on other clothes, and he went, and two men with him; and they came to the woman by night. And he said, "Please conduct a séance for me, and bring up for me the one I shall name to you."
9 Then the woman said to him, "Look, you know what Saul has done, how he has cut off the mediums and the spiritists from the land. Why then do you lay a snare for my life, to cause me to die?"
10 And Saul swore to her by the Lord, saying, "As the Lord lives, no punishment shall come upon you for this thing."
11 Then the woman said, "Whom shall I bring up for you?"
And he said, "Bring up Samuel for me."
12 When the woman saw Samuel, she cried out with a loud voice. And the woman spoke to Saul, saying, "Why have you deceived me? For you are Saul!"
13 And the king said to her, "Do not be afraid. What did you see?"
And the woman said to Saul, "I saw a spirit ascending out of the earth."
14 So he said to her, "What is his form?"
And she said, "An old man is coming up, and he is covered with a mantle." And Saul perceived that it was Samuel, and he stooped with his face to the ground and bowed down.
15 Now Samuel said to Saul, "Why have you disturbed me by bringing me up?"
And Saul answered, "I am deeply distressed; for the Philistines make war against me, and God has departed from me and does not answer me anymore, neither by prophets nor by dreams. Therefore I have called you, that you may reveal to me what I should do."
16 Then Samuel said: "So why do you ask me, seeing the Lord has departed from you and has become your enemy? 17 And the Lord has done for Himself as He spoke by me. For the Lord has torn the kingdom out of your hand and given it to your neighbor, David. 18 Because you did not obey the voice of the Lord nor execute His fierce wrath upon Amalek, therefore the Lord has done this thing to you this day. 19 Moreover the Lord will also deliver Israel with you into the hand of the Philistines. And tomorrow you and your sons will be with me. The Lord will also deliver the army of Israel into the hand of the Philistines."
20 Immediately Saul fell full length on the ground, and was dreadfully afraid because of the words of Samuel. And there was no strength in him, for he had eaten no food all day or all night.
21 And the woman came to Saul and saw that he was severely troubled, and said to him, "Look, your maidservant has obeyed your voice, and I have put my life in my hands and heeded the words which you spoke to me. 22 Now therefore, please, heed also the voice of your maidservant, and let me set a piece of bread before you; and eat, that you may have strength when you go on your way."
23 But he refused and said, "I will not eat."
So his servants, together with the woman, urged him; and he heeded their voice. Then he arose from the ground and sat on the bed. 24 Now the woman had a fatted calf in the house, and she hastened to kill it. And she took flour and kneaded it, and baked unleavened bread from it. 25 So she brought it before Saul and his servants, and they ate. Then they rose and went away that night.
1 Samuel 29
The Philistines Reject David
1 Then the Philistines gathered together all their armies at Aphek, and the Israelites encamped by a fountain which is in Jezreel. 2 And the lords of the Philistines passed in review by hundreds and by thousands, but David and his men passed in review at the rear with Achish. 3 Then the princes of the Philistines said, "What are these Hebrews doing here?"
And Achish said to the princes of the Philistines, "Is this not David, the servant of Saul king of Israel, who has been with me these days, or these years? And to this day I have found no fault in him since he defected to me."
4 But the princes of the Philistines were angry with him; so the princes of the Philistines said to him, "Make this fellow return, that he may go back to the place which you have appointed for him, and do not let him go down with us to battle, lest in the battle he become our adversary. For with what could he reconcile himself to his master, if not with the heads of these men? 5 Is this not David, of whom they sang to one another in dances, saying:
'Saul has slain his thousands,
And David his ten thousands'?"
6 Then Achish called David and said to him, "Surely, as the Lord lives, you have been upright, and your going out and your coming in with me in the army is good in my sight. For to this day I have not found evil in you since the day of your coming to me. Nevertheless the lords do not favor you. 7 Therefore return now, and go in peace, that you may not displease the lords of the Philistines."
8 So David said to Achish, "But what have I done? And to this day what have you found in your servant as long as I have been with you, that I may not go and fight against the enemies of my lord the king?"
9 Then Achish answered and said to David, "I know that you are as good in my sight as an angel of God; nevertheless the princes of the Philistines have said, 'He shall not go up with us to the battle.' 10 Now therefore, rise early in the morning with your master's servants who have come with you. And as soon as you are up early in the morning and have light, depart."
11 So David and his men rose early to depart in the morning, to return to the land of the Philistines. And the Philistines went up to Jezreel.
1 Samuel 30
David's Conflict with the Amalekites
1 And David said in his heart, "Now I shall perish someday by the hand of Saul. There is nothing better for me than that I should speedily escape to the land of the Philistines; and Saul will despair of me, to seek me anymore in any part of Israel. So I shall escape out of his hand." 2 Then David arose and went over with the six hundred men who were with him to Achish the son of Maoch, king of Gath. 3 So David dwelt with Achish at Gath, he and his men, each man with his household, and David with his two wives, Ahinoam the Jezreelitess, and Abigail the Carmelitess, Nabal's widow. 4 And it was told Saul that David had fled to Gath; so he sought him no more.
5 Then David said to Achish, "If I have now found favor in your eyes, let them give me a place in some town in the country, that I may dwell there. For why should your servant dwell in the royal city with you?" 6 So Achish gave him Ziklag that day. Therefore Ziklag has belonged to the kings of Judah to this day. 7 Now the time that David dwelt in the country of the Philistines was one full year and four months.
8 And David and his men went up and raided the Geshurites, the Girzites, and the Amalekites. For those nations were the inhabitants of the land from of old, as you go to Shur, even as far as the land of Egypt. 9 Whenever David attacked the land, he left neither man nor woman alive, but took away the sheep, the oxen, the donkeys, the camels, and the apparel, and returned and came to Achish. 10 Then Achish would say, "Where have you made a raid today?" And David would say, "Against the southern area of Judah, or against the southern area of the Jerahmeelites, or against the southern area of the Kenites." 11 David would save neither man nor woman alive, to bring news to Gath, saying, "Lest they should inform on us, saying, 'Thus David did.' " And thus was his behavior all the time he dwelt in the country of the Philistines. 12 So Achish believed David, saying, "He has made his people Israel utterly abhor him; therefore he will be my servant forever."
1 Samuel 31
The Tragic End of Saul and His Sons
1 Now the Philistines fought against Israel; and the men of Israel fled from before the Philistines, and fell slain on Mount Gilboa. 2 Then the Philistines followed hard after Saul and his sons. And the Philistines killed Jonathan, Abinadab, and Malchishua, Saul's sons. 3 The battle became fierce against Saul. The archers hit him, and he was severely wounded by the archers.
4 Then Saul said to his armorbearer, "Draw your sword, and thrust me through with it, lest these uncircumcised men come and thrust me through and abuse me."
But his armorbearer would not, for he was greatly afraid. Therefore Saul took a sword and fell on it. 5 And when his armorbearer saw that Saul was dead, he also fell on his sword, and died with him. 6 So Saul, his three sons, his armorbearer, and all his men died together that same day.
7 And when the men of Israel who were on the other side of the valley, and those who were on the other side of the Jordan, saw that the men of Israel had fled and that Saul and his sons were dead, they forsook the cities and fled; and the Philistines came and dwelt in them. 8 So it happened the next day, when the Philistines came to strip the slain, that they found Saul and his three sons fallen on Mount Gilboa. 9 And they cut off his head and stripped off his armor, and sent word throughout the land of the Philistines, to proclaim it in the temple of their idols and among the people. 10 Then they put his armor in the temple of the Ashtoreths, and they fastened his body to the wall of Beth Shan.
11 Now when the inhabitants of Jabesh Gilead heard what the Philistines had done to Saul, 12 all the valiant men arose and traveled all night, and took the body of Saul and the bodies of his sons from the wall of Beth Shan; and they came to Jabesh and burned them there. 13 Then they took their bones and buried them under the tamarisk tree at Jabesh, and fasted seven days.
Psalm 86
Prayer for Mercy, with Meditation on the Excellencies of the Lord
A Prayer of David.
1 Bow down Your ear, O Lord, hear me;
For I am poor and needy.
2 Preserve my life, for I am holy;
You are my God;
Save Your servant who trusts in You!
3 Be merciful to me, O Lord,
For I cry to You all day long.
4 Rejoice the soul of Your servant,
For to You, O Lord, I lift up my soul.
5 For You, Lord, are good, and ready to forgive,
And abundant in mercy to all those who call upon You.
6 Give ear, O Lord, to my prayer;
And attend to the voice of my supplications.
7 In the day of my trouble I will call upon You,
For You will answer me.
8 Among the gods there is none like You, O Lord;
Nor are there any works like Your works.
9 All nations whom You have made
Shall come and worship before You, O Lord,
And shall glorify Your name.
10 For You are great, and do wondrous things;
You alone are God.
11 Teach me Your way, O Lord;
I will walk in Your truth;
Unite my heart to fear Your name.
12 I will praise You, O Lord my God, with all my heart,
And I will glorify Your name forevermore.
13 For great is Your mercy toward me,
And You have delivered my soul from the depths of Sheol.
14 O God, the proud have risen against me,
And a mob of violent men have sought my life,
And have not set You before them.
15 But You, O Lord, are a God full of compassion, and gracious,
Longsuffering and abundant in mercy and truth.
16 Oh, turn to me, and have mercy on me!
Give Your strength to Your servant,
And save the son of Your maidservant.
17 Show me a sign for good,
That those who hate me may see it and be ashamed,
Because You, Lord, have helped me and comforted me.